13+ Warning Signs that Your Computer is Malware-Infected
Reached out to your IT guys immediately.
Here's one of the scenarios you may not like, but it could happen every day because it's always viruses season for computers. You're working on an important project and suddenly you start seeing annoying pop-ups displayed on your computer. Also, it takes too long for your files or computer apps to load. You wait and wait until you start asking yourself:
 "Does my computer have a virus?"
Unfortunately, the answer might be "yes" and your PC could be already compromised with viruses or next-gen malware that are slowing down its activity and performance.
This is one of the many warning signs that show your PC might suffer from a malware infection. There are more of them you need to be aware of and understand, so you can quickly take action.
In this article, we'll show you the most frequent warning signs of malware infection.
Scenario 1: "My computer applications run slow lately and it takes longer than usual to start"
If you're dealing with this scenario, it could mean you have viruses on your computer. We know, it's so frustrating to see it loading slowly. It is a known fact that one of the malware's main activity is to slow down your operating system, whenever you're navigating on the Internet or simply accessing your local applications.
Scenario 2: "I keep getting annoying ads that are opening randomly or strange messages on my computer's screen"
Unexpected pop-ups which appear on your screen are a typical sign of a malware infection that wreak havoc on your computer. This form of malware is known as spyware and is designed to collect and steal users' sensitive data without their knowledge.
In this particular case, the main issue is created not only by the numerous pop-up windows that affect your Internet browsing but also because it is quite difficult to remove them from the system.
These pop-ups are not only frustrating, but they usually come bundled with other concealed malware threats and could be far more destructive for our systems. They could be disguised as legitimate programs and actually track your web browsing data or monitor your online activity to collect passwords and other personal information.
We strongly recommend to NEVER CLICK on a suspicious pop-up!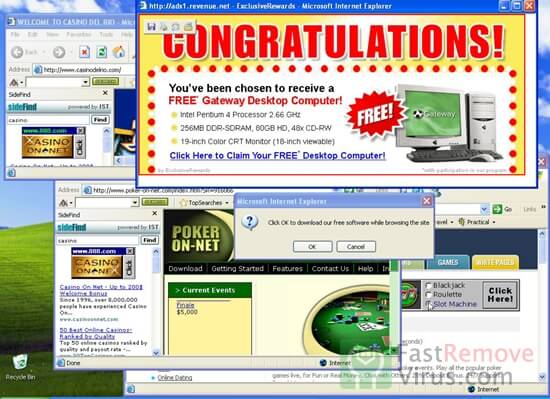 Source: FastRemoveVirus.com
Scenario 3: "My laptop keeps crashing when I watch Youtube videos or play games. It simply freezes, then a blue screen shows up"
Oh, I know this one. It happened to me with my previous laptop so many times and was quite frustrating. It crashed so many times and got that popular BSOD (Blue Screen of Death). Then it started and "told" me Windows was recovering from an unexpected shutdown.
You are probably familiar with this error too, right?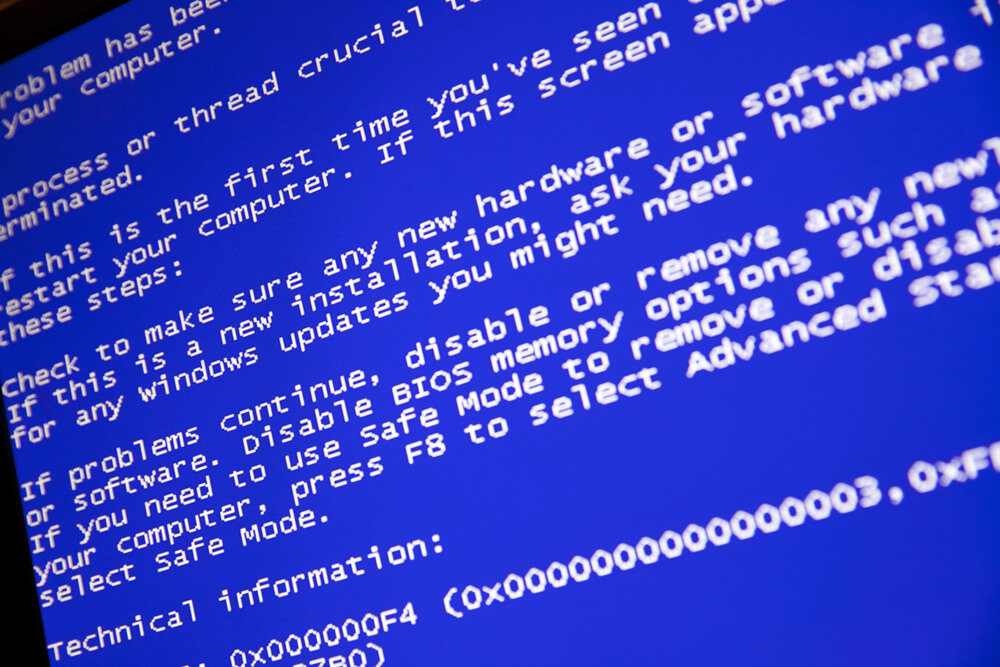 There might be two things causing this type of issue:
You could be dealing with a technical issue caused by a potential incompatibility between your software and/or hardware
Or it may be a malware issue.
If you suspect any technical problem, it may lead to this:
Are different programs running on your PC that are in conflict? Are there any orphaned registry keys which have not been removed that could eventually crash your system?
Orphaned registry keys are pieces of data information that have been left behind during the process of uninstalling several programs from your computer. They don't only take up unnecessary space on the PC but can cause a serious issue for its proper functionality.
Scenario 4: " I started getting this popup message <you're running out of disk space on Windows (C:)"
If you are receiving this warning message, it means that there's no free space left on a particular partition (in this case, C) on the main hard drive in your computer. More and more users are reporting this issue.
Scenario 5: "For quite some time, every time I start my PC, I notice that the Internet traffic suspiciously increases"
If this message was displayed on your computer, chances are there is an unusually high network activity happening on your PC that could lead to a malware infection.
There are cases when the user is not connected to the Internet through his browser, and there is no program that may connect to online servers to download or upload any data, but high network activity can still be observed.
Scenario 6: "My homepage has changed and I don't remember doing it myself"
If you spotted this unusual behavior or a new toolbar showing out of nowhere, or you've been redirected to a different web address than the one you've initially accessed, they could be signs of malware infection.
It usually happens when you visit a website and you accidentally click on a link or a pop-up window. This triggers the unwanted software to download and install on your device. The effects are not only annoying but also malicious, and can compromise your data.
Scenario 7: "My PC is acting weird because I get unusual messages that appear unexpectedly."
I get this! That's usually the type of warning message that makes you wonder "What's going on with my computer?"
Here are some frequent warning signs to watch out!
Suddenly you see programs opening and closing automatically
your Windows OS is shutting down unexpectedly, without any reason
you've noticed strange windows when your PC tries to boot
Windows tells you that you've lost access to some of your drives.
Although the root cause may be a technical issue, it could also be a warning sign that malware has taken over your computer and is slowing down its activity.
Scenario 8: "I use an antivirus product and keep getting the message that <Protection is disabled>"
If you noticed your antivirus solution doesn't seem to work anymore or the Update module is disabled, then you should check out immediately for ways to fix this.
Did you know that some types of malware are sneaky and can disable your security solution?
 Well, yes, they are designed to leave users without any defense and making difficult to detect them. If you already tried to reboot your computer, closed and opened the security solution and all your troubleshooting efforts seemed useless, you could take into consideration the malware infection scenario.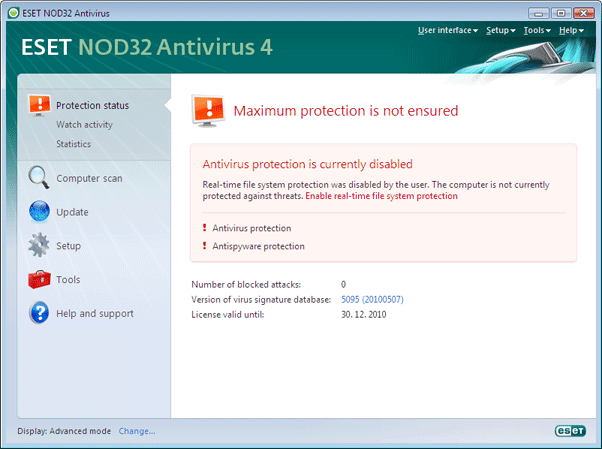 This is especially the case, because it's a known fact that traditional antivirus solutions can't easily detect, block or remove next-gen and advanced malware (such as ransomware, adware or financial malware). Thus, you can get exposed to all kind of attacks, and we strongly recommend enhancing your protection by adding multiple layers of protection.
Scenario 9: "My friends tell me they're getting strange random messages from me on Facebook, which I didn't send"
If your friends recently got several strange messages/emails or suspicious links from you, and you didn't send them, it's likely that you've been infected with malware. Here's a good example of malware spreading via Facebook Messenger and tricking users into clicking on links they've received from one of their friends.
Scenario 10: "There are these new, yet unfamiliar icons on my desktop that I don't recognize"
If you've been noticing unknown and new icons on your PC, you most likely downloaded by accident these sneaky programs called PUPs (Potentially Unwanted Programs). They are malicious programs that can do a lot of damage and expose you to data leakage, displaying annoying ads or pop-ups on the screen, or adding toolbars on your browser.
Scenario 11: "Sometimes I see unusual error messages displayed on my computer"
An error message like this one could indicate that there's a bug in your system that needs to be fixed, or it could be a warning sign of malware infection. These types of error messages showing missing or corrupt files folders suggest that your PC has been compromised and its performance is affected, which makes it run slowly.
Scenario 12: "It seems that I can't access my Control Panel by clicking on the button"
If you are facing this issue and your Control Panel does not open, it means that your computer is having a technical problem and is not functioning correctly.
Scenario 13: "Everything seems to work perfectly on my PC. Are any chances to be paranoid and still check out for malware?"
When it comes to data protection, it is essential to be a little bit paranoid and very careful, even if everything seems to look normal. Why? Because cybercriminals are creative and they can hide malware in the most unexpected places, leaving no visible marks and still infecting your computer.
Everything may seem to work perfectly normal on your PC until a boot on your system could silently wait for instructions to access and collect your most valuable data.
Scenario 14: "My laptop working very slow and sometimes it gives the
 

<Flash not working>

 

error on

 

the

 

browser"

We received the above message from one of our readers. 

If you get this message too on your laptop or PC, it might be a good idea to disable Flash and try another alternative. Flash has lots of vulnerabilities that we talked about in this article, showing all the security risks users are exposed to. 

Regardless of your browser used, (Firefox, Opera, Chrome) this could be a warning sign that your computer is malware-infected.   

 
Scenario 15: "I used an external USB drive and when I connected it to my computer, it was infected by a virus and suddenly all the files turned into shortcuts."
Here's another warning sign showing your computer could be infected with malware. If you used an external USB drive or another external flash drive to copy information without scanning it before, this could explain the appearance of those shortcut files.  
If all your images, files, and other documents show up as shortcut files and are not accessible, they could be infected with malware. These malicious files can compromise all your data from the computer, rename your files and create a lot of chaos and hassle.  
Source: Heimdal Security